Published by Joanna | SCOJO New York on Jun 20th 2021
Father's Day is, as its name suggests, a day honoring fathers and fatherhood. In the U.S. and Canada, it occurs on the third Sunday of June; in other countries, Father's Day comes as early as February. Though it may not be celebrated on the same day across the world, the purpose is the same: to show appreciation for dads — bio dads, adoptive dads, stepdads, guardians, mentors and father figures, fathers-in-law — and the paternal bonds that shape our lives and our societies.
This Father's Day, we're offering 20% off sitewide from June 20th to June 22nd with the promo code DAD20. Help give dad a little sartorial nudge with our digital gift cards. Whether he's the strong and silent type, or artistic and literary, or nerdy, funky, funny or an adventurer, we're sure there's a look for him.




Gels Geometric, Abingdon Square, Christopher Street, Greys
If you're looking for ideas about how to show appreciation for the fathers in your life, we have a few:
1. Give the gift of a handmade card. Make it yourself with some good cardstock and a little creativity: for decoration try rubber stamping, watercolors, decoupage, quilling or a good old-fashioned collage. Not artistic? Try finding a local artist—bonus, you'll be helping a small business get back on its feet. Dad would approve.
2. Picnic in the park. Whip up a couple of sandwiches and some cut fruits and veggies for an al fresco lunch. Try Martha Stewart's twist on the ham and swiss, or go cucumber cream cheese for a vegetarian option (sub in vegan cream cheese or avocado if your father is vegan).
3. Coffee and conversation. Dad might be so focused on a goal or a task that he doesn't talk much about himself. A cup of good coffee on a patio and a long conversation can be the perfect opportunity to learn more about him: What did he want to be when he grew up? What was his childhood like? What's his favorite memory of his own family? You might learn something new about dear old dad.
4. Try one of his hobbies. Whether it's a crash course in programming, a few hours fishing on the lake, learning how to block a punch or helping to restore a well-loved piece of furniture, spend some time learning the things that enrich his life.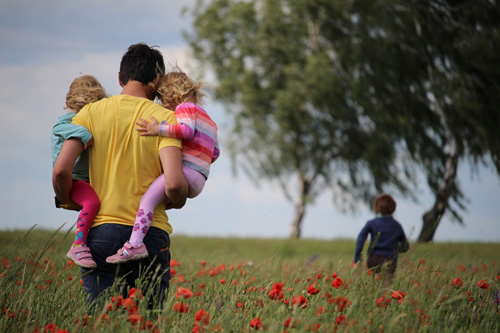 5. Remind him that you love him. You may not come from a family that expresses feelings easily. But if there's anything the last year has taught us, it's to treasure what's important. Push past the awkwardness and tell dad, in so many words, the things you feel but might not always express—that you care for him, you appreciate him, you are proud to be his family.
To all the proud patriarchs: have a happy, safe and fun Father's Day!