Published by Joanna | SCOJO New York on Aug 6th 2021
Imagine: it's a gorgeous late summer day. Sunny and warm, with a crisp, perfect breeze. It's mid-morning, and you find yourself with a few free hours.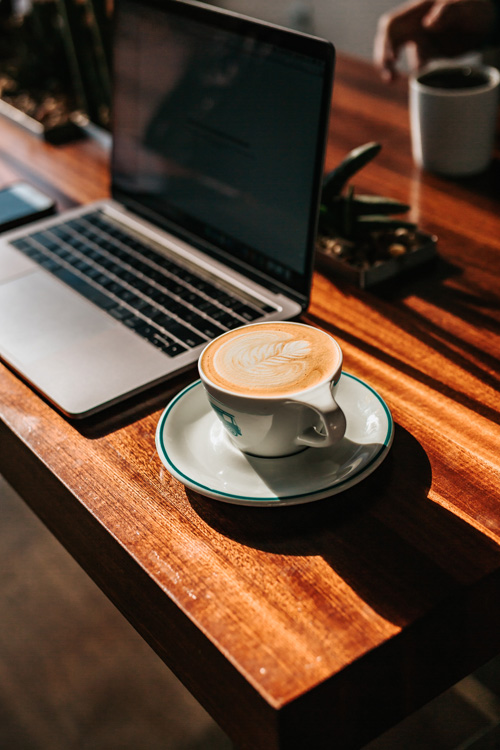 Maybe you're people-watching as the world slowly returns to normal. Or you're putting the polish on that novel or poem or song. Or you're taking a much-needed mental health day from the grind of corporate life. Or you're sitting down with a chic new pair of readers and a good book—you know, the one you bought on a whim but haven't had a chance to dive into yet.
Chances are you're doing it at a coffee shop. And while there's nothing wrong with grabbing a sweet concoction from the ubiquitous green siren, if you're looking to slow down, sit down, and mindfully, lovingly savor something good, New York City is full of inviting coffee shops where you can do just that.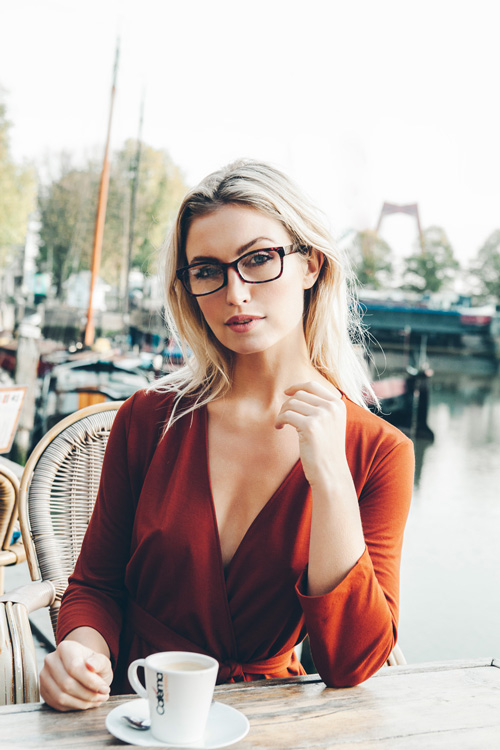 You see, coffee shops are like microcosms of the city: each has its own personality, its own soul. Aside from the absolute prerequisite of excellent coffee, each one is completely different. Coffee lovers—the kinds that haunt their local roasteries and know the best spots—will understand. A coffee shop is so much more than a place that serves coffee: it's a full experience, distilled into a cup (or several) of deliciousness. And the experience of coffee shops in New York is like nowhere else.
Whether you're looking for that dreamy exposed-brick minimalistic interior with white countertops and bare metal accents, or you want quirky local art on the walls and an eccentric, offbeat feel with the music to match, this city has you covered. In every borough, every neighborhood, from central Harlem to Astoria, Sunnyside to Lower Manhattan, there's a new coffee experience just waiting to be discovered. Savored. Fallen in love with.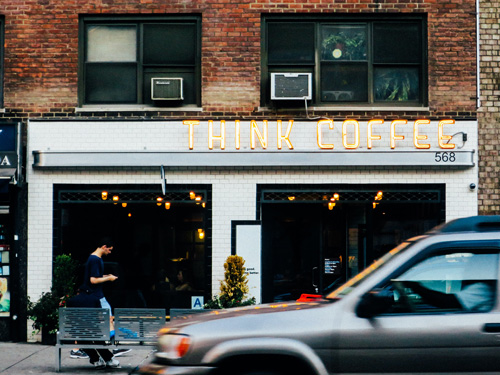 Coffee shops have always been synonymous with good times: comfort, familiarity, community. (Consider how important a fixture Central Perk was to the sitcom of the 90s, Friends.) The Platonic ideal of the coffee shop is unity: so many different souls, with so many different stories, have sought sanctuary in local cafes. Students struggling with projects, harried executives getting their daily fix, friends sympathizing over heartbreak, seniors keeping company over croissants and small cups of black drip-brewed coffee—all equally welcome.
But now, coffee shops also represent, in the same quasi-allegorical way, optimism. Hope.
For the last year and change, COVID-19 has rocked the hospitality industry—including coffee shops, many of which saw a reduction in foot traffic. But with vaccinations on the rise and the world returning to its pre-pandemic normal, coffee lovers are resuming their old routines, almost like the return of wildlife. And you are one of many birds, on this bright, beautiful day, who have come back home. So slow down. Sit down. Slip on your glasses, crack open that book and enjoy that blissful first sip.
Because right now, hope tastes like coffee. Really, really good coffee.
Share your favorite coffee shops or coffee stories on social media and use #scojonewyork. You may also email info@scojo.com if you prefer, we can't wait to hear from you!